Interested in Regenerative Farming?  Thinking about the options and want to make a change to your farming system?
Join this 6-day regenerative farming education tour to learn about a range of options available from successful farmers. Learn about a variety of enterprises, management systems, value adding and marketing options.
Visit case-study properties covering a wide variety of enterprises and size operations from 2ha to 2000ha,
Receive first-hand information about the manager's story, their production systems, products and marketing,
Experience a range of management and production systems covering holistic management and planned grazing, permaculture, keyline development, organic certification, bio-dynamics and more,
And see how each has worked (or not) for the producer.
We have our new tours planned for 2018.  We have had great response from people who would like to do the tour and we will shortly release dates through 2018 so if you are interested you can choose the one that suits you.  BUT,  we will also be limiting the numbers on each program. This will allow us to more easily fit the program in and give the attendees better access and support while on the program.
If you are interested then please get in touch and get on our waiting list: Want more information on the tour and program details?
The Program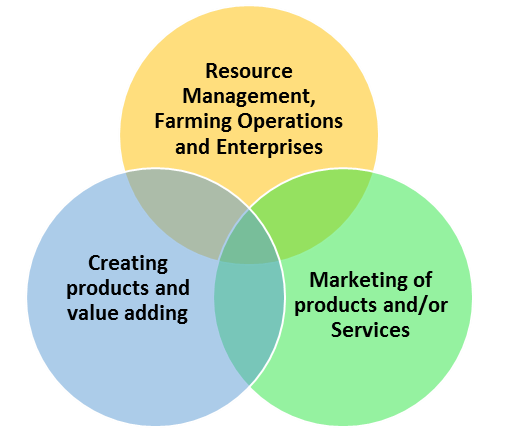 The program of learning is structured to cover three core areas of developing and operating a farm undertaking regenerative farming principles:
resource management, farming operations and enterprises
creating products and value-adding
marketing and sales
These principles align with Holistic Management's chain of production which is one of the core principles we advocate. An introduction is included in the program and visits have been structured to focus on each of these areas.
The program includes visits to different farming businesses covering pigs, cattle, sheep, goats, broilers, eggs, vegetables, tree crops, berries, vines, on-farm abattoir operation, retail butchers, farm-based cafe and functions, accommodation and education.
Operators will discuss their philosophy, their journey, their successes and things they would do better. Participants receive background information on each case-study prior to the tour. In some cases, you will have access to economic and financial information for the operations.

Tour Leader
Tour Leader is consultant and producer Glen Chapman from Southern Blue Regenerative, who will provide context and input as you progress through the visits.  He will facilitate learning workshops during the tour to discuss and explore the principles and concepts of regenerative farming. Glen has over 20 years of experience in regenerative farming principles.   He has traveled internationally looking at regenerative farming practices and brings this knowledge and his varied strategic business management experience to you in helping you apply the learning from the tour.
Ready to reserve your place on the tour? Secure Early bird discount of 15%.

Tour Inclusions
Depending on the program length
All travel, learning, study and great food
Pickup and drop-off at a central location (Victoria is ex-Melbourne)
Coach travel to all visits,
Accommodation for each night
Most meals – will be provided by some of the farm locations and local restaurants and cafes showcasing local produce where possible.
An information and research booklet will be provided prior to departure with case study information about each visit.
The tour will be fully escorted by consultant and producer Glen Chapman from Southern Blue Regenerative.
Reserve your place Now!

Save
Save
Save
Save
Save
Save
Save
Save
Save
Save
Save
Save
Save
Save